Abonnements haben in den letzten Jahren erheblich an Popularität gewonnen. Während Konsument*innen in der Vergangenheit mit Zeitungs- und Handy-Abo-Verträgen konfrontiert waren, begegnen wir nun zunehmend Subscription-Modellen für digitale Güter und zuweilen auch für materielle Güter.
Digitale Subscriptions
Etliche Software-Anbieter haben ihr Angebot von Kauf- auf Abo-Modelle umgestellt. Jüngste Beispiele für dieses Software-as-a-Service (SaaS)-Modell liefern etwa Microsoft oder Adobe. Die Nutzer*innen sind nicht mehr im Besitz eines Datenträgers, wie z. B. einer CD, sondern erhalten vorübergehend Zugang zur abonnierten Software. Das selbe gilt für Video- und Musik- sowie Games-Anbieter.
Subscription Commerce
Mit dem Erfolg der Subscriptions für digitale Güter stieg auch die Zahl der Abo-Angebote für materielle Verbrauchsgüter im Online-Einzelhandel. Mittlerweile gibt es Subscriptions für Fashion (Stitch Fix), Beauty (Birchbox, Glossybox), Bücher (Book of the Month), Kochzutaten (Hello Fresh, Marley Spoon), Socken (BLACKSOCKS) sowie zahlreiche andere Verbrauchsgüter (Amazon Spar Abo, Bloombox). Bei manchen Anbietern erhält man eine personalisierte (kuratierte) Überraschungsbox (Stitch Fix), in anderen Fällen definieren die Kund*innen genau, welches Produkt sie in regelmäßigen Zeiträumen erhalten möchten.
Bischof et al. (2020) haben den Markt für Einzelhandel-Abonnements (Subscription Commerce) einer Analyse unterzogen und vier Archetypen entlang der Dimensionen Customization und Purchase Control identifiziert: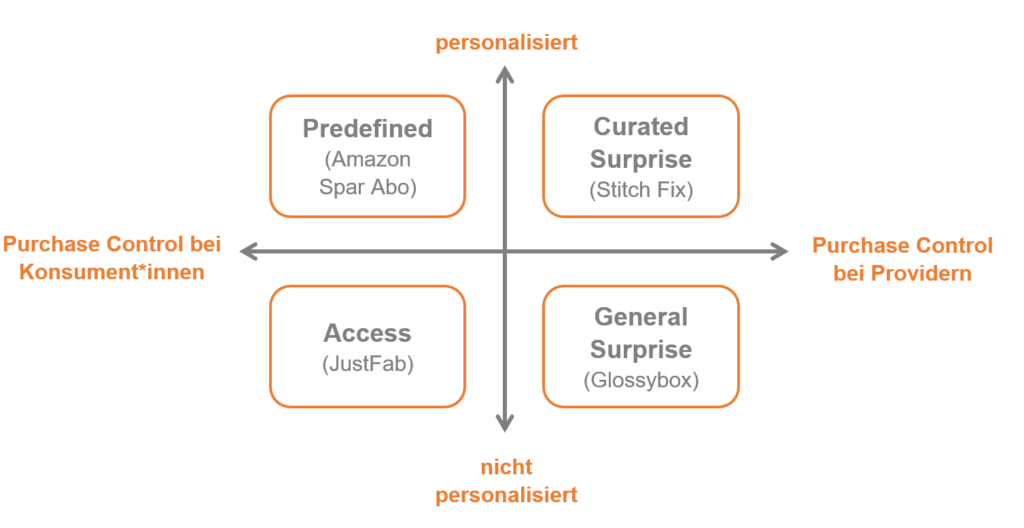 Um ein optimales Kundenerlebnis zu bieten und die Kündigungsraten zu senken, setzen Abo-Anbieter zunehmend auf Data Analytics und KI. Insbesondere Anbieter von Curated Subscriptions versuchen, vorherzusagen, welche Produkte den Verbraucher*innen gefallen könnten. Bei Stitch Fix etwa sind zahlreiche Data Scientists damit beschäftigt, Algorithmen zu pflegen, welche in weiterer Folge den Stylist*innen bei der Zusammenstellung der personalisierten Fashion-Boxen helfen (Sinha et al., 2016).
---
Literatur
Bischof, S. F., Boettger, T. M., & Rudolph, T. (2020). Curated subscription commerce: A theoretical conceptualization. Journal of Retailing and Consumer Services, 54, 101822. https://doi.org/10.1016/j.jretconser.2019.04.019
Sinha, J. I., Foscht, T., & Fung, T. T. (2016). How Analytics and AI Are Driving the Subscription E-Commerce Phenomenon. MIT Sloan Management Review. Retrieved November 19, 2021, from https://sloanreview.mit.edu/article/using-analytics-and-ai-subscription-e-commerce-has-personalized-marketing-all-boxed-up